A Weekend Collaboration: Experience Haus and Essex Startups
Design education is constantly evolving to keep up with the changing needs of industry and the creative economy. With the workforce of tomorrow needing the right skillset for success and with startups needing the right foundations for growth, innovation hubs inside universities are primed to help with both of these requirements.
Innovation centres at universities are typically established to promote innovation and entrepreneurship among students, faculty, and the wider community. They typically provide resources, support, and mentorship to help entrepreneurs and innovators bring their ideas to market, and this is done through funding opportunities, workspace, and educational programs and workshops.
This past weekend Experience Haus worked with Essex Startups, a support service at the University of Essex, and based within the universities Innovation Centre. The Essex Startups team provides students and graduates the opportunities develop entrepreneurial skills to prepare for their future. The two-day workshop was one of many programmes that the team runs aimed at providing students with core design and entrepreneurship skills to help them bring their ideas to life.
Ten students, who are all part of the Essex Startup Frontrunners programme, took part. These students (who are employed as Innovation Factory project assistants) are provided paid opportunities and partnered with startups. Because they are studying various subjects, this provides a range of backgrounds which they can apply as their work on these startups, with fresh eyes, through in-depth research and more.
"The Innovation Factory is designed to do two things: firstly, we want to give our students practical, real-world examples of the types of problems that they'll face in the workplace when they graduate, and, second, to provide additional help and support for our start-up community so they can explore new opportunities to help them scale and grow. It's an exciting approach and we're looking forward to seeing the outcomes at the end of the project." Andy Mew, Head of Start-Up Support, Essex Startups
The workshop was divided into two parts. On the first day, students were introduced to design thinking and user research basics. They learned about the importance of the designers mindset, and understanding how divergent and convergent thinking can help in the design process. They then learned how to identify and understand the needs of their target audience, and how to use this information to inform their design decisions. This was followed by ideation and prototyping, where students used various methods and tools to generate and refine potential solutions.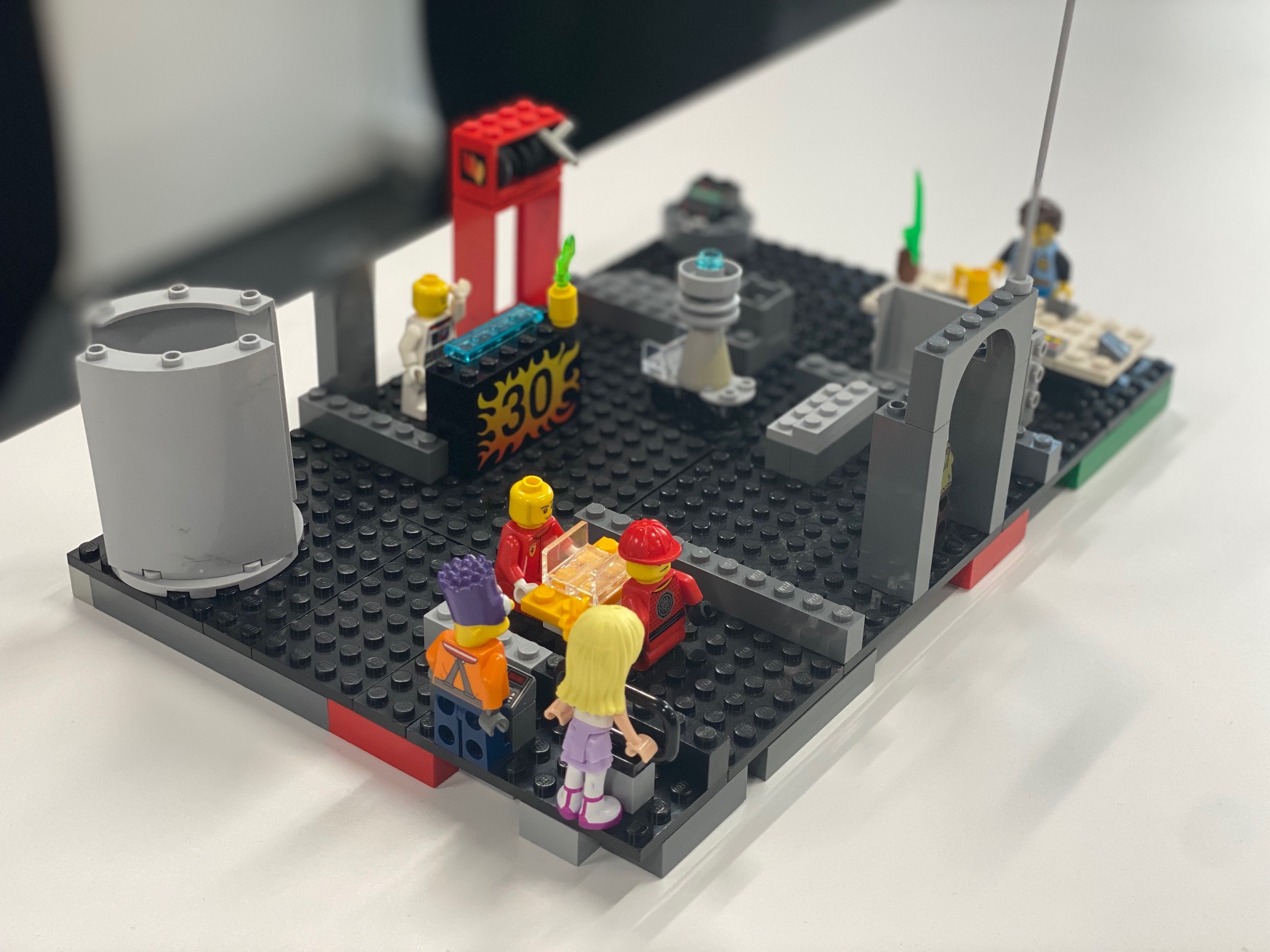 To bring a sense of real-life application, the students were asked to re-imagine the whole Innovation Centre experience. And in order to bring some creativity, collaboration and an understanding of constraint into the day, students were asked to first sketch their concepts, and then used LEGO to build rapid prototypes of their vision.
On the second day, students dove deeper into the business side of design. They were introduced to business model design and pricing strategies, and learned how to develop a marketing plan that would help them reach their target audience and bring their ideas to market. As they worked through the topics of the day, they continued to work on their LEGO prototypes, which provided a good grounding for open conversation and deliberation on the best path forward.
The highlight of the workshop was the final pitches, where students presented their ideas and prototypes to the rest of the group, including the Head of Startup Support, Andy Mew. This was an opportunity for students to demonstrate what they had learned and to receive feedback from their peers. It was amazing to see the creativity and passion that the students brought to their projects, and everyone involved was impressed by the high level of professionalism displayed in their presentations.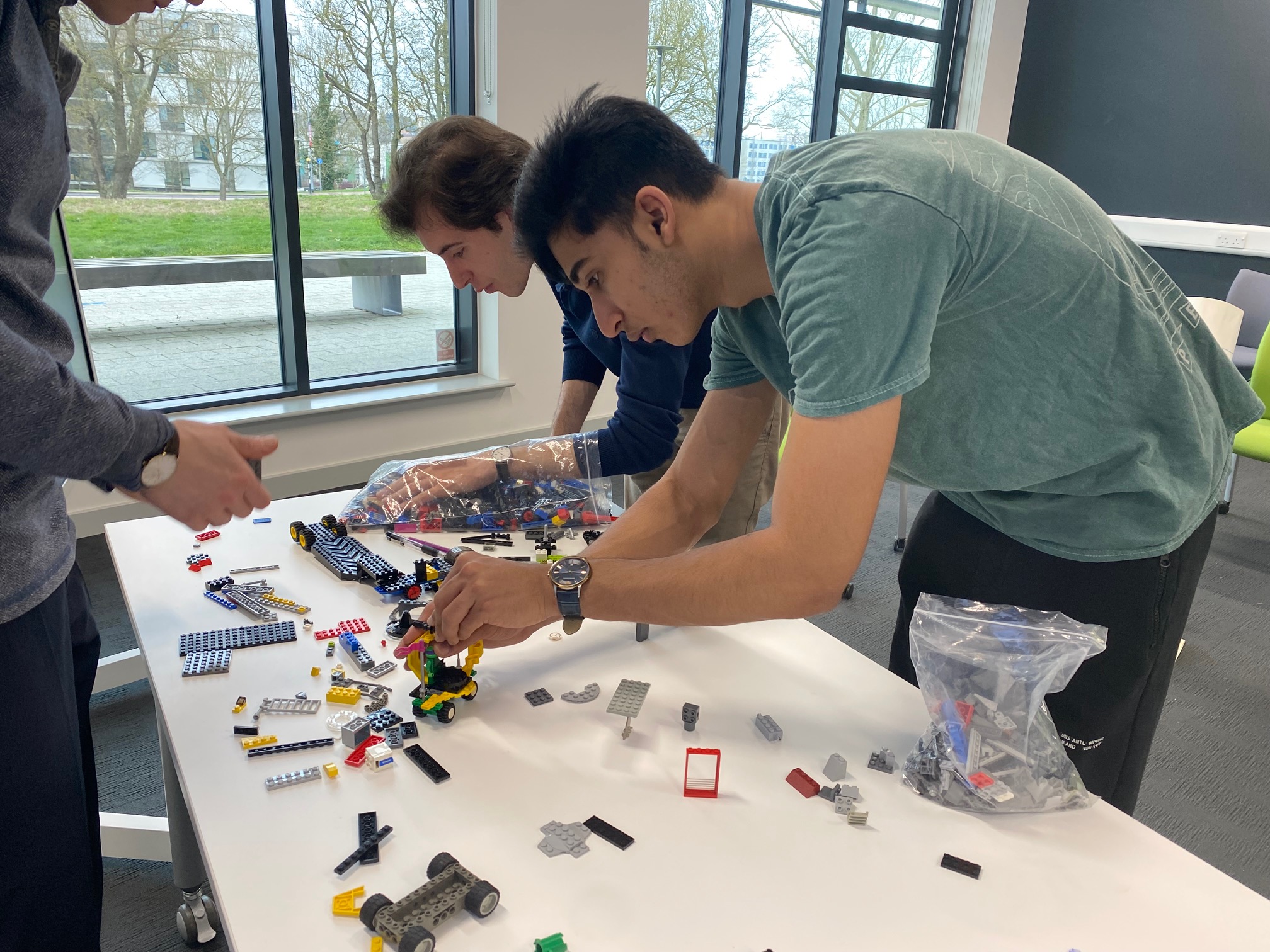 "As someone who aspires to get into marketing this was an amazing experience to learn in-depth knowledge, in a fun creative way, which kept me engaged. It has given me more confidence as you provided great tips on what businesses look for and need to run a business, which I can apply in the future" Anoushka Tekeyan-Pelosi
"I learned a lot this weekend about design thinking, prototyping, ideation, and business modelling and I gained a lot of confidence from the pitching exercise that we undertook at the end of the weekend." Ed Creeden
"This was a great workshop, very informative, always held my interest. It was very engaging and fun to participate in and something I would recommend to anyone." Bilal Nagode
In conclusion, the collaboration this past weekend was a great success, and the combination of topics provided a well-rounded learning experience that will serve the students well in their future careers.
By providing students with the tools and skills they need to succeed in the very near future, we are helping to build a stronger and more vibrant creative community. The Experience Haus team looks forward to a continued collaboration with the Essex Startups team, and to helping the next generation of entrepreneurs and creative thinkers reach their full potential.