An Experience Haus Design Day From Our Student's Perspective
On Saturday 30th September, around 50 of our alumni came along to our studio to participate in a new kind of Experience Haus Design Day, designing solutions for some of London's most pressing needs.
On this day we officially introduced our alumni to Hauslabs is a new internal innovation lab designed to build out impactful ventures. These ventures will provide our students with incredible learning opportunities, and the chance to lead these projects and join the world of entrepreneurship. We spoke to some of our students, including those who had never been to one of our Design Days before, about how they've found the day and why this is another reason why they enjoy being part of our ever-growing Experience Haus community. 
Have you ever been to an Experience Haus Design Day before? If not, how have you found your first one?
Reena: I first came to an Experience Haus Design Day a couple of years ago whilst I was still on my course. This is now the fourth one I've done (both at Experience Haus and other locations). I really enjoy them as you get to work on a completely new design challenge with a new team of people. It's a great way to learn from one another.
Memori: It's been really fun and engaging, though sometimes challenging at points when there are lots of ideas flying around!
For me, being at work and having completed the course, I found it difficult to stay in the habit of practicing, but today has been really helpful in terms of learning new skills and meeting new people.
Demi: This is my first one! I didn't realise these days were such a regular thing so I look forward to joining more in the future.
It's been really fun and invigorating – so far I'm loving it! I've been engaged from the moment I stepped back into the studio. The energy is electric and everyone is really passionate about designing an impactful solution and presenting at the end of the day.
It also feels good to be back in the Experience Haus/Matter of Form studio and working in this way. I don't know if it's going through the design process or the students here, but it always feels really good when I'm designing here, and reminds me why I love being a designer.
Iria: It's been a really intense day, but fun! Being able to meet new people, people who have the same interests as me. It's been fun to work on a new project, but can also be a challenge working with a new team of people you don't know. I'm looking forward to seeing what everyone comes up with. Even though we have the same brief, I think everyone will have come up with very different ideas.
Eunice: The design day I was at before was pretty big! It was the project with the police where we were looking into young people's perception of them and vice versa. It was very very busy that day, but really rewarding! All the young people that got involved were incredibly interested in what we were doing and curious. I think through the day, we helped them look at the police from a new perspective, which was great. 
Today is equally as enjoyable, although much more relaxed as there are less people around! It's still very rewarding as the themes Experience Haus tend to choose are very thoughtful and something that benefits people. They always focus on something that can make the world a little bit better, and that's something that I really appreciate.
Amy: Good! It's been really interesting and really good to work with people who have different experiences of UX. I've learned quite a lot from people with different backgrounds, and it's been good to work with people who are quite competitive! We've all been critiquing each other's work and ideas, and this has meant we've come up with even better ideas. It's actually taught me quite a lot about teamwork and collaboration.
Vish: It's been so nice to collaborate with other designers and meet people from previous alumni and from other courses, and just get together and mesh and brainstorm different ideas and design concepts.
What have you been up to since finishing your course?
Reena: I now have a new job at the BBC doing an apprenticeship in UX digital design. I only started a couple of weeks ago but I'm really enjoying it and it's amazing to be part of such a big organisation. It's really fun, I've met a lot of new people, including those who have pivoted into UX/UI just like me!
Memori: I'm freelancing in UX and UI.
Demi: I'm now a Digital Product Design Intern at The Lego Group. I work on all the marketing channels and technology, working to enhance the digital touchpoints of consumers and shoppers, as well as users who are non-customer facing such as store associates, with the applications they use to convert sales and making transactions. Just making life easier for anyone involved in the process!
Vish: Since finishing my course in July, I worked on a client project for Wellx who are a health-tech startup based in Dubai. They took me on as an intern and I've been working with them giving them UX/UI support and helping them with the designs and development of their mobile app.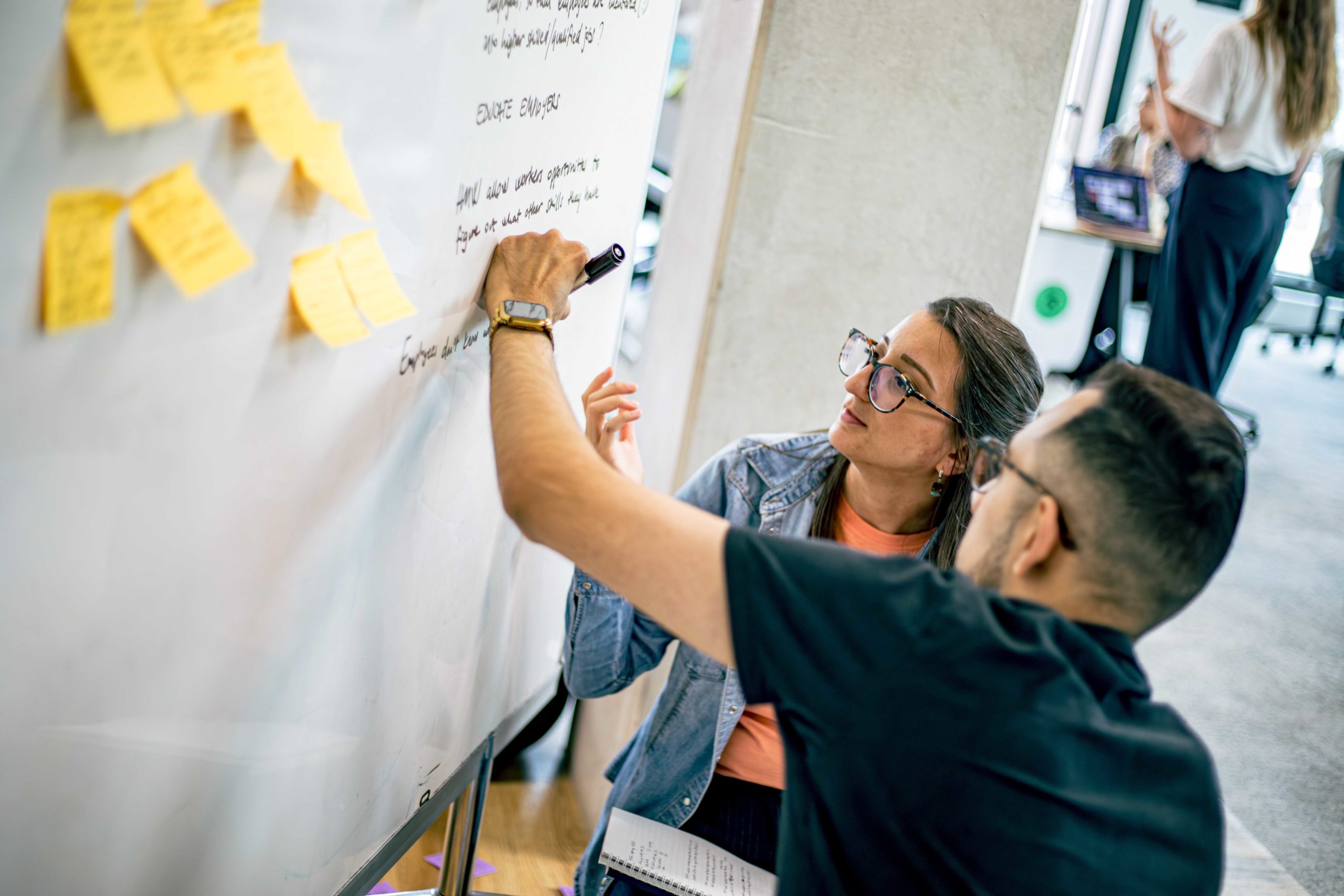 Do you have a favourite part of being a member of the Experience Haus community?
Reena: I like having events like design days because it's a way for Experience Haus students to come together, not only to work on projects, but also network with one another. 
I also liked the support I received from the team. Everyone in the team was really friendly. I had a lot of questions in the beginning as I was a bit anxious as to whether I should do the course or not as it was quite a big career change and Rosie managed to help me quite a lot. Amit was also really good to talk to to hear more about the course and what I'd be getting myself into!
Memori:  Definitely the support, as well as meeting new people. Today I have met people who are in a similar position as me of just starting out, as well as those who already have experience and are working in the industry, and also those who are still on courses.
Demi: My favourite part? I think it's the support as it goes beyond just graduating. I've always felt like the Experience Haus team have kept in touch with me, to find me opportunities. I graduated back in February but still, here I am! Some of my team members actually graduated years ago but are still coming back because it's such a great community and the opportunity to come to these design days is something you don't really get elsewhere. I really appreciate the fact that Experience Haus go beyond just handing you your certificate!
Iria: I think being in the agency environment really helps bring everything to life. Networking, meeting new people, speaking to people who are already working in the industry. Everyone is really lovely! The instructors have so much knowledge and so much to give, so so far it's been great!
Amy: Days like these are really great opportunities and experiences. The opportunity to speak tutors for in-person courses is quite rare as a lot of courses out there are just virtual and just pre-recorded content that you work through without interacting with anyone! Having the in-person aspect is really good.
Vish: I think just being able to be in a design agency and studio and collaborating with other people. You don't really get that with an online course. It's a lot more engaging when you can be here and meet people and be in-person. We also get a lot of opportunities to present and do public speaking and I think that's really great.
If you were going to recommend Experience Haus to anyone, what would be our USP that you would tell them?
Reena: They have a vast selection of courses and workshops you can join, showing they're very innovative in the way they come up with new ways for people to learn and grow. 
All the tutors are really lovely and supportive. It also really helps that they don't just work as teachers, but are actually working in the fields that they're teaching in. It's so useful as on the course they can give us the actual knowledge from the working world.
Memori: The community and Slack channel. Just being able to reach out to people and knowing you're not on this journey alone (because it is very competitive out there and there are a lot of things that need to be learned!), but the support from Experience Haus really helps with that.
Demi: Honestly, I would say it's the people that are in the building that can support you. The teachers here are top notch! They're really good in their roles and very informative and supporting in teaching you. I had a substitute teacher when mine fell ill, and the insight he gave me that day has never left me. 
I think the fact that Experience Haus isn't just about the teaching; it's about so much more. I just don't think anyone could get that elsewhere with other providers, so I highly recommend Experience Haus! It feels so nice to still be part of the community.
Iria: Working with a real client. Getting real work experience is one of the main reasons that made me come here and is definitely one of the main selling points. Also, being able to come in-person to a creative design studio makes it more personable and valuable than doing an online bootcamp.
Eunice: I can't really compare to any other courses, but the thing that sold me was the fact that there was a real brief, there were real clients that needed our expertise, and that makes a big difference as you have someone to engage with and you are designing something that can make a difference.
Amy: I think it would be the value for money. I did quite a lot of research before I picked this course, and a lot of the other ones out there are a lot more expensive and don't have such small groups. I was part of a small group on my course working on a client brief, making it a very real world scenario. You got a real tutor that you could speak to and ask questions to. All the sessions were recorded so you could go back and re-watch them if you needed to, and you actually gained experience that you could put on your portfolio.
Vish: I think it's the fact they're building this community. We can always meet up for socials and are always welcome to come back into the office and chat to people. It's a meeting point for everyone and helps it's in London! By being able to meet new people gives you further opportunities to collaborate on projects with and as the time goes on, the community is just getting bigger and bigger. With other courses, they were much bigger groups and all remote so you don't have that level of community and personal factor.
Reena, Demi and Eunice completed our part-time Product Design course. Eunice also did our Design Leadership course.
Memori and Amy completed our part-time UX/UI Design online course
Vish completed our full-time UX & UI Career Development Bootcamp. Iria is currently completing the bootcamp.