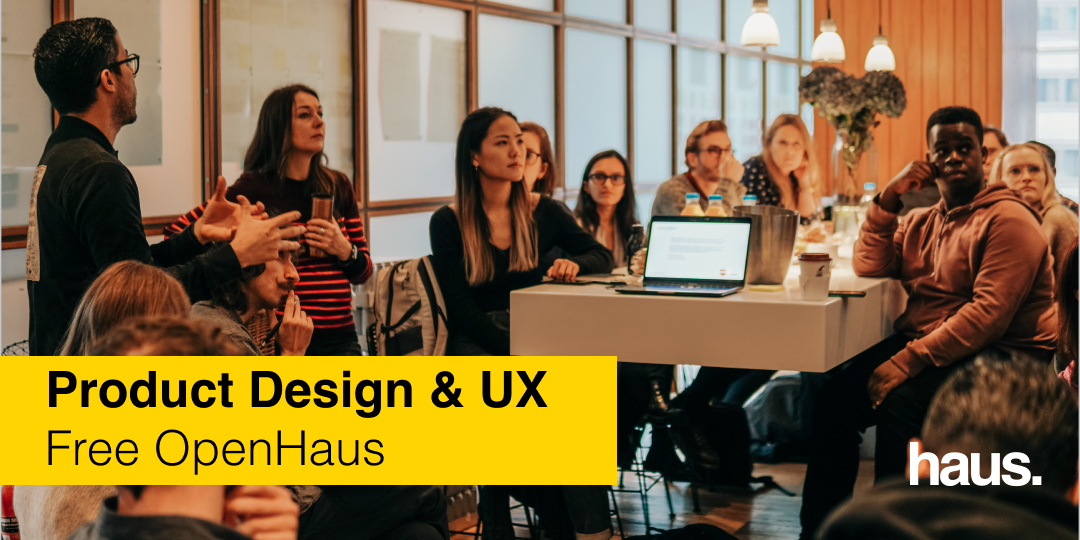 Product Design & UX OpenHaus
Free
Our free Product Design & UX OpenHaus is perfect for anyone looking to change careers, add to an existing skill set, or have a drink and explore some interesting topics.
Over beer, wine, or perhaps just a cup of tea Experience Haus Creative Director, Amit Patel, will provide a free introduction to the exciting world of Product Design and UX.  Including everything from product strategy, user research, wireframing and prototyping to experience mapping, ideation and user interface design.   
Afterwards, meet with our community alumni and hear how they successfully transitioned into a new career in Product Design & UX, or how they used the skills acquired through Experience Haus to boost their professional outlook.
Tickets are not available as this event has passed.
About the Intructor
Amit Patel is a freelance Product Manager/Designer working with a number of clients here (most recently Crossrail 2) in London. He's the instructor of our 10 week Product Design course while growing Experience Haus. He was formerly the lead instructor on General Assembly's full-time immersive and part-time UX courses in London.
He recently spent a year working as the Product Manager at Adio.fm, a startup, cloud-based platform designed to re-invigorate the way we curate and view audio and video via mobile and the web. Previously he spent five years working on the Crossrail project (Europe's biggest construction project) working on business process/analysis, and project management.
Location
This workshop takes place in our studio in Shoreditch, London.
Experience Haus
Unit 4 – Galaxy House
32 Leonard Street
London
EC2A 4LZ
Who is this for and why should you attend?
The is perfect for anyone who is looking to add product development and creative thinking skills to their existing skillset, have a drink and explore some interesting topics.
Previous students include account managers, front-end developers, graphic designers and brand consultants.
What is Experience Haus?
Dedicated to delivering digital skills education and spaces for self-improvement, Experience Haus provides applied learning courses for organisations and individuals covering an abundance of different digital expertise. We aim to bridge the gap between ambition and education with design and digital skills, a hands-on mentality and curious minds.
Our range of part-time and intensive courses are taught by top practitioners. Update or refresh your current skill set. Whether it is design, development or strategy, our courses will ensure you are equipped with the latest tools and skills.
Crucially, we go above and beyond the purely technical and hopes to uncover the black holes in business. Our offering of events, part-time courses (pairing students with start-ups), hands-on workshops and bespoke programming intends to bridge the gap between economical and accessible learning for the curious.